Last night hubby and I went to Pittsburgh to see the Dave Matthews Band concert at the Post Gazette Pavilion at Starlake in Burgettstown, PA. It was night two of their Summer 2008 tour. It was anything but ordinary, with the band playing cover songs for their encore both nights. Check out the setlist.

My mom came down to watch our kids for us for the night, arriving around noon on Saturday. We hit the road about 30-45 minutes later, making our estimated time of arrival at the Bed and Breakfast around 4pm. We stay at this great place just a few miles from the show called, Timber Crest Inn. We made decent time and got there right when we had planned.


I had eaten a sandwich before we left home, but I am always hungry and wanted to have dinner before we headed to the show. We decided to have dinner at the B&B. Let me just say that it was one of the best dinners I have ever eaten. I had Lobster Bisque, striped sea bass with lemon pepper seasoning over roasted red pepper fettucine with hearts of palm, mushrooms, artichoke hearts, and sundried tomatoes. On the side I had fresh garden asparagus. To wash it down I had my favorite beer, Yuengling.
After dinner we headed to the show, arriving around 6:30pm or so. We had heard that DMB went on at 8:20pm the night before, so decided to hang out in the lot for a while, then head in around 8pm to our seats. We timed it perfectly because right as we got to our seats, the band came on!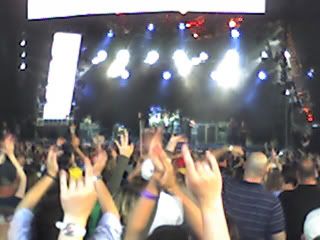 The show was great and hubby and I enjoyed a couple of $8 beers while there. We got out about 10:30pm and decided to head back to the B&B right away. If you've ever been to a DMB concert, you know that leaving the parking lot can be quite a feat! We finally managed to get out around11:30pm, notbad at all considering other times we've sat in the lot until 2am or later!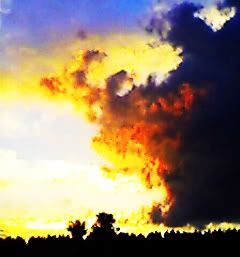 We hung out for a bit when we got back, then went to bed. Got up around 9am today and headed downstairs to the restaurant for the included breakfast. Yum, yum, yum! I had coffee, a cup of fruit, a homemade blueberry muffin, and the main course was eggs, potatoes, and sausage gravy over biscuits. We headed home right afterwards and got back around 2pm. A successful weekend was had by all!
Posted in: Burgettstown, concert, dave matthews band, DMB, Pittsburgh, Post-Gazette Pavilion, Starlake on Sunday, June 1, 2008 at at 2:55 PM