It's time for Round 3 of the bloggy giveaways carnival here at Hullabaloo! I thought I'd mix things up a bit for this round and offer up a wonderful book,
Made From Scratch
, by Sandra Lee.
From Amazon.com: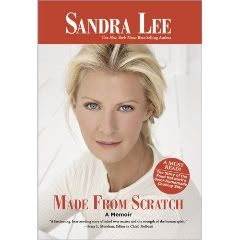 Product Description
This powerful, emotional, and astonishing story will inspire anyone who has faced adversity to overcome challenges and persevere. Sandra's candid account of her personal journey offers a rare glimpse into the life of the woman behind the phenomenal success of Semi-Homemade. Smart, witty, and moving, Made From Scratch is an uplifting tale of determination and survival. Sandra is stunningly open about her abusive childhood and the responsibility thrust upon her at an early age to be the caretaker of her family.
From the Inside Flap:
Through a series of tragedies and challenges, she painfully discovered that we are all responsible for the choices we make in life. With the guidance of her grandmother, Sandra learned to be a self-sufficient and independent woman. After moving to Wisconsin at 15 to live with her father, an unexpected tragedy and the fallout from his mistakes required her to get her own apartment while still in high school. At 21, Sandra moved to Los Angeles, where she found tremendous success, launching her first product line, Kurtain Kraft. Working with the gritty resolve and make-do skills she learned as a child, she became a millionaire by the time she was 25, only to lose her fortune before the age of 30 and have to start all over again. Sandra started Semi-Homemade, smarter and wiser from her past mistakes, and has never looked back.
Now dedicated to helping others through various charities and foundations, Sandra is committed to aiding and inspiring people to reach their dreams. Her unforgettable story will show that if she can do it, you can too. Made From Scratch will make you laugh, cry, think, and embrace the grace and glory in every day. Sometimes feisty but always sincere, Made From Scratch has all of the ingredients that make up the recipe of a courageous life and remarkable success.
Written by:
Sandra Lee is a lifestyle expert and a New York Times and Amazon.com best-selling author. With 13 books to her credit, she is the host of a top-rated TV show, Semi-Homemade Cooking, on the Food Network. Sandra resides in Los Angeles and New York City.
Laura Morton is the author of 30 books, eight of which are New York Times best sellers, including The Truth Is, Melissa Etheridge's memoir; Bringing Elizabeth Home, the Elizabeth Smart story; and Healthy Living, Joan Lunden's personal journey. Laura lives in New York.
To enter this Bloggy Giveaway, simply:
Leave a comment on THIS POST telling me either your favorite recipe OR who your favorite celebrity chef is.


Make sure as you enter, that I have a way to get in touch with you via a working email address.

Giveaway is open to those living in the USA only. I will pay the shipping & handling.


After I email you, you have three days to email me in return with the address I am to mail the card in order to get it to you. If you do not respond within three days, I will choose another winner.

Winner will be chosen by using random.org integer generator.

Have fun!

Contest ends Sunday night(April 27, 2008) at 11PM EST. I will announce the winner on Monday morning.
Technorati tags:
blog
,
blog giveaway
,
freebies
,
Sandra Lee
,
Made From Scratch
Posted in: blog, blog giveaway, freebies, Made From Scratch, Sandra Lee on Thursday, April 24, 2008 at at 10:52 AM 78 comments