Welcome to another exciting edition of Works for me Wednesday hosted by Rocks in My Dryer, where you can find links to lots of great WFMW posts!!



The Bissell Steam Mop in Green Tea 1867-7 is the newest version of the company's popular steam mop. Like its predecessor, the Green Tea Steam Mop uses the power of steam to clean and sanitize flooring, rather than harsh chemicals. This is one of the most compelling benefits of the steam mop. I found I could use ordinary tap water, which the Bissell converts to steam, to release and remove soil and sticky messes from floors.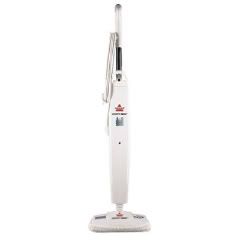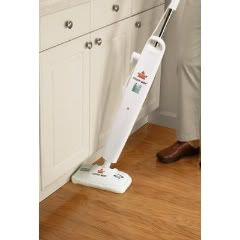 Unlike some of its competitors, which have an attachment to steam-clean carpets, the Bissell can be used on hard floors only; it is safe for use on marble, stone, ceramic, vinyl, laminate, linoleum and sealed hardwood floors. The Bissell Steam Mop comes with two microfiber pads. The pads are reusable and can be machine-washed and machine-dried. I did find that the pads shrink slightly after being washed and dried, which can make them more difficult to place on the mop head.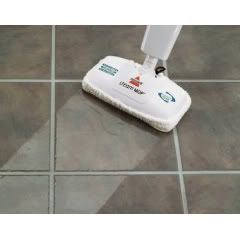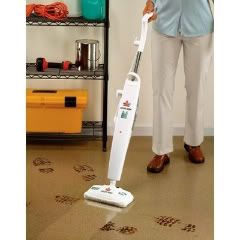 The Bissell Steam Mop has a swiveling mop head. This feature makes it easier to clean under cabinets, and the Steam Mop is easy to push. It doesn't take long to steam-clean even a sizeable room, and the steam action softens and lifts dried spills and food messes. The button on the handle that releases steam has to be held down while mopping and this becomes uncomfortable after a few minutes. Our other gripe is that the Bissell Steam Mop has a water filter, which will need replacement and become a regular, extra expense.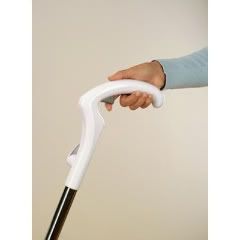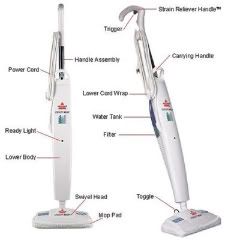 Still, the Bissell Steam Mop is quiet. I plugged it in, waited about a minute for steam production to start, and were able to start cleaning right away -- without the vacuum-like noise I expected. Like most steam mops, the Bissell works best when the floors are first swept of debris. Even with this predictable extra step, this Steam Mop sure beats the traditional mop-and-bucket system. It also wins over stick mops that use chemical-soaked disposable pads because it cleans floors faster without streaking and without leaving wetness behind. The verdict? I like the Bissell Steam Mop in Green Tea for its cleaning abilities and run-quiet operation. If the pads didn't shrink, there wasn't that pesky button on the handle and it didn't require filter replacement, I'd give the Bissell Steam Mop my highest marks.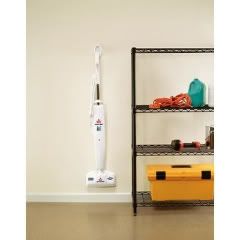 Pros: Uses steam not chemicals
Cons: Can only be used on hard floors

Technorati tags:Bissell, Bissell Steam Mop, WFMW, Works for me Wednesday
Posted in: Bissell, Bissell Steam Mop, WFMW, works for me Wednesday on Sunday, April 20, 2008 at at 9:41 PM