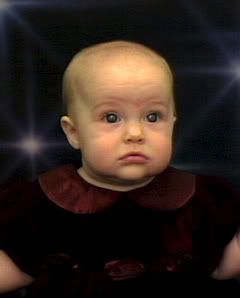 Today my first born daughter turns 9 years old. It's hard to believe she's gone from being a little baby to a beautiful young girl. Each year her birthday is a little bit harder for me and this one is no exception.
Remembering back to the day she was born so much has changed. Not only has Rachel gone from a tiny, helpless, little baby to an intelligent, athletic, third grader, but I've changed as well.
When she was born I had just turned 21 years old. I had only known her dad for a couple of months before I found out that I was pregnant and the young age of 20. We knew right away that termination was not an option and that we would work it out, even though we barely knew each other and were very young.
My pregnancy with her was absolutely horrible. I had morning sickness, which is a terrible name for it because it lasted 24 hours a day. The doctor and nurses told me that once I got past the first trimester, the nausea would subside. But it didn't. I stopped taking the prenatal vitamins, which the doctor blamed for my continued nausea. I ate Flinstone vitamins instead.
When the nausea still didn't go away well into my second trimester I was prescribed Zofran, which I never took because I was too afraid of any risks. I suffered through the vomiting no matter what I ate or drank, including a glass of water. I lost 15 pounds those first 6 months.
I finally began to feel a little better once the third trimester was well under way. I was actually able to gain the 15 pounds I had lost back, plus 12 more! Around week 37 or so the doctor checked the position of the baby, she was breech! That had been my greatest fear, that I would have to have a c-section, so when the doctor said that he could try to turn the baby, I was all for it!
After my appointment I headed over to the maternity ward at the hospital where the version would take place. I was hooked to the monitor and had an IV, then I was given Terbutaline to help relax the uterus. The doctor then attempted to make the baby "flip" or "somersault" into the head down position. However, the medication had made my heart race and all the pressure on my stomach from the doctor pushing on it made me extremely nauseauted and I vomitted. The version was ended and a c-section was scheduled for the following Thursday at 8am. My worst fears had come true.
The morning of May 6, 1999 the sky was bright pink when we left our apartment for the hospital at 6am. Sean said, "It must be a girl!" ( We had chosen not to find out.) Once at the hospital I was prepped for surgery and wheeled down into the operating room. The doctor made the first incision then he called for Sean to come in. He was to sit next to my head, but stood instead. Once he saw all the blood he turned pale as a ghost and sat down. At 8:19am, Rachel was born! She weighed 6 lbs. 13 oz, 20 inches long. The baldest, most beautiful baby girl I ever could have wished for. The pediatrician quickly let me take a look at her before she was wheeled to the nursery.
I had to stay down in the recovery room while Sean went upstairs with our new baby girl. Shortly thereafter he returned downstairs with Polaroid pictures to show me. I didn't get to hold her or see her again until hours later. I'll never forget that first moment when she was finally placed in my arms. All the nausea and fear and happiness and love just overtook me. The first couple of days are a blur to me. I think it's a combination of all the pain medications, and constant flow of people visiting, and a my first child.
I finally got to leave the hospital when Rachel was 3 days old, on Mother's Day 1999. It was the best Mother's Day present I could ever have asked for.
And here I am, 9 years later. Now I have 3 children, each one born by the dreaded c-section. In the end, it doesn't matter HOW they got here, just that they are all healthy. It's taken me a long time to accept that. We no longer live in a one bedroom apartment without any windows, now we have a house of our own. I not only graduated from college, but went on to complete my Master's degree as well. So much has changed in the last nine years, but one thing has remained constant, and that is the love I have for my first born child.
Posted in: birthday, Rachel, reflections on Tuesday, May 6, 2008 at at 6:23 PM